Today is the last day of November, and sadly, the last day of our November of Giveaways.   Though I'm sad the November fun is almost over, I am thrilled to host Kristen from Dine & Dish for our last giveaway.  I met Kristen at BlogHer Food and she is incredibly thoughtful and easy to talk to, not to mention an accomplished cook and photographer.  She has done so much for the blogging community, including starting the Adopt a Blogger project which has paired beginning bloggers with experienced mentors.  You'll enjoy the story below she writes about cooking with chicken THIGHS, not breasts.  She makes them delicious with McCormick's Roasted Spices, the prize for today's giveaway.  Details on how to enter are below and remember, everyone who has entered a giveaway is eligible to win the Oneida Roasting Pan.  Coming next… 12 Days of Kitchen Essentials starting on December 7!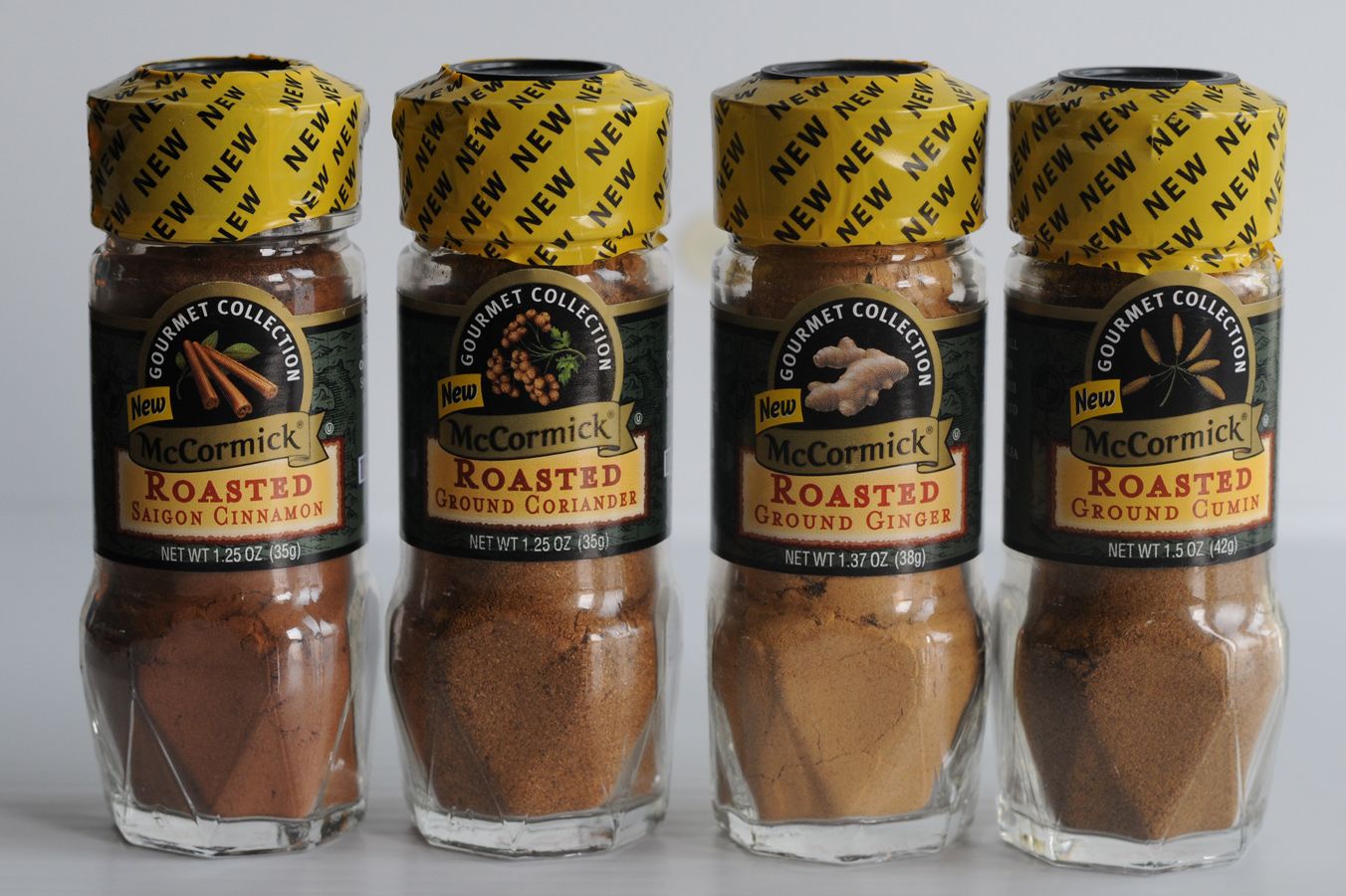 Have you ever made a mistake that ended up being a pretty good mistake in the end? A few weeks ago, I was at Sam's Club and I picked up a giant package of what I had thought were Boneless Skinless Chicken Breasts. When I got home, I looked at the package more closely and noticed that I had picked up Boneless Skinless Chicken Thighs… not breasts! I have never once, in all of my culinary life, cooked with Chicken Thighs. Never!
I sent out a desperate plea to my friends on the Dine & Dish Facebook page asking for some recipes..lots of recipes… that I could use to get me through all the thighs I had on hand. What came back in return was comment after comment with recipe after recipe and a chorus of praise for the good old chicken thigh. Seriously? I had no idea that anyone ever even used chicken thighs!
I decided to start down the list from the top, which began with this recipe for Spicy Honey Chicken Thighs. I was excited to try this recipe for two reasons. One, Paige (from the blog On My Menu) raved about this recipe. Two, it uses two of the spices featured in the giveaway for today!
If you haven't made the terribly wonderful mistake of trying out Chicken Thighs yet, can I recommend that you do? They are so moist, flavorful and just down right wonderful, you will have a hard time not making the same mistake again.
Recipe: Spicy Honey Chicken Thighs (from On My Menu)
8 boneless skinless chicken thighs, about 2lbs
2 t vegetable oil
Rub:
2 t garlic powder
2 t chili powder
1/2 t onion powder
1/2 t coriander
1 t kosher salt
1 t cumin
1/2 t chipotle chili powder
Glaze:
1/2 C Honey
1 T Cider Vinegar
Directions:
Combine the rub spices in bowl and mix well.
Use kitchen shears (or a pair of clean scissors) to trim off any excess fat from the chicken pieces. Pat dry. Drizzle oil over chicken and rub in with your hands to lightly coat all the pieces. Then toss chicken with the spice rub to coat all sides well. Use your hands and get in there!
Line a cookie sheet with foil. Place the chicken thighs on the cookie sheet, and broil in the oven on high for 5 minutes on each side.
While chicken is cooking, warm honey in the microwave so it's not so thick. Add the vinegar and combine well.
Open up your oven and brush each side of the chicken with the honey glaze mixture. Allow to cook on each side for another 3 minutes, or until chicken is cooked all the way through. Watch carefully as the honey mixture can burn easily (although some of my chicken got a little crispy, I thought those parts tasted the best!)
To enter the giveaway:
1.  Leave a comment on this post
2.  Leave a comment on Facebook
The giveaway ends on December 7.
No related posts.
Related posts brought to you by Yet Another Related Posts Plugin.